In wake of verdict on dera chief Ram Rahim: Punjab and Haryana on High alert!


Various parts of Haryana and Punjab have been put on high alert because a special CBI court in Panchkula will pronounce its verdictof 15-year-old case in a sexual exploitation. The case which is  against Dera Sacha Sauda chief Gurmeet Ram Rahim Singh, will announce its verdict on August 25, 2017. Due to this, the authorities have sounded a maximum alert in Haryana and Punjab while prohibitory orders have been imposed in Fatehabad district.


The spiritual leader of millions of followers, Gurmeet Ram Rahim sing is a singer and actor and is currently the talk of the town because in 2002 one of Baba's female followers accused him of sexual abuse. The follower had written an anonymous letter to then Prime Minister of India Atal Bihari Vajpayee who had then ordered a CBI probe and the case is still pending in court. After more than a decade of hearings, the case was passed by Punjab-Haryana high court and after being heard at the special CBI court, Panchkula, the case has arrived at its final hearing in the 15-year-old case. 
In the thick of all the tension that has been going in different parts of Haryana and Punjab, the central government has decided to deploy 35 companies of paramilitary forces in Haryana and 75 companies in Punjab. All roads adjoining Panchkula's District Court complex as well as the dividing roads of sectors 1 & 2 will be closed till the verdict.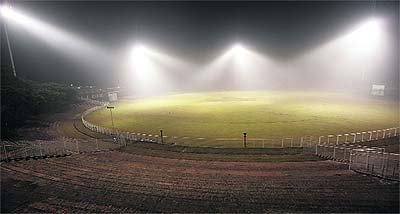 The district court will also remain closed for 3 days i.e. from 23rd to 25 August, to avoid any kind of harassment and violence since Chandigarh Home Secretary has ordered to convert 'Cricket Stadium, Sector-16 Chandigarh' into a temporary jail and the order strictly says to use the cricket stadium as jail for 25th August.

Security agencies have been keeping a strict watch on suspicious persons who could create law and order problem ahead of the court verdict since it is speculated that Dera Sacha Sauda Sirsa premis have started storing petrol, diesel in drums, sharp-edged weapons and stones on the roof of Naam Charcha Ghars in district Faridkot. 


Patiala Zone Inspector General A S Rai says "We are in touch with suppliers of petrol, diesel and other inflammable material and have asked them to inform us in case bulk purchases of such materials are made" and the letter says "You are therefore directed to deploy sufficient manpower and to make adequate law and order arrangements to ensure that all necessary steps including preventive and precautionary are taken so as to ensure nothing untoward takes place,".


Do let us know your views in the comments section below.
Stay tuned for the latest updates.
COPYRIGHT © 2017 RAUNKA.COM ALL RIGHTS RESERVED. All written work on this site is property of Raunka.com, unless otherwise stated. Unauthorized use and/or duplication is strictly prohibited. Excerpts and links may be used, provided that full and clear credits is given to Raunka.com.